What is Geek Fuel?
Geek Fuel is a monthly subscription box service catering to the geek community!
Each box contains an array of geek-tastic goodies revolving around your favorite cult classic games, tv shows, and comic books.
In each Geek Fuel box, expect to find:
An exclusive, one-of-a-kind t-shirt
Toys
Digital Games
Limited Edition Collectibles
The exact contents of each geek subscription box can vary depending on the month. Some boxes have candy, some of have mugs, pint glasses, stickers, keychains, magnets. The exact recipe is a surprise.
However, every box always comes with a unique t-shirt and every box has a guaranteed value of at least $40, so you're always getting your money's worth.
I also really appreciate that Geek Fuel has t-shirt sizes for both men and women, which isn't always so common. Girl power!
Geek Fuel Box Themes
Each geek box has a theme. You'll get an idea of what to expect by looking at past boxes.
The April box (the one I received for this review) was "Team" themed (mostly revolving around The Avengers, with the imminent movie premiere).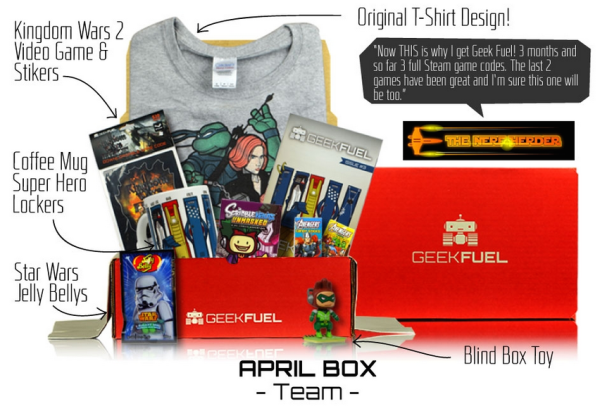 The March box was centered around the "War" theme, mostly revolving around Game of Thrones.
February's nerd subscription box was "Retro" themed, providing flashbacks of arcade glory with Pac Man, Space Invaders, and others.
The January box was "Time" themed, with appearances from everyone's favorite Doctor and some Zelda goodies of course.
Unpacking a Geek Fuel Box: Goodies I Got!
I'll be going into detail what I received in my Geek Fuel box for April.
First, this AWESOME Avengers/Ninja Turtles t-shirt that of course I was obligated to wear to The Avengers: Age of Ultron.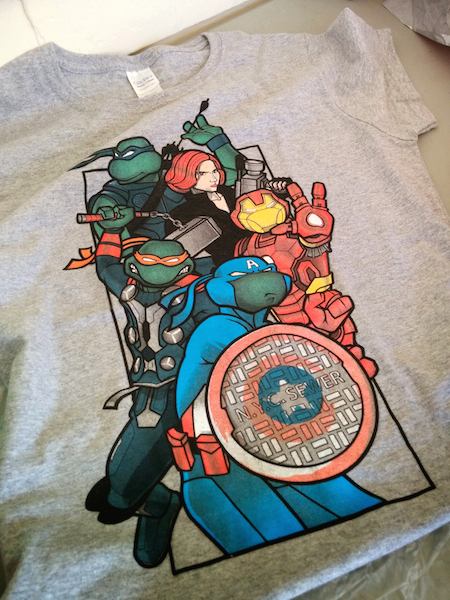 Next up were some delicious candies, featuring Star Wars jelly beans and Avenger's candy sticks. They reminded me of the fake candy cigarettes I would sometimes get as a kid. Memories!
There were also some great reading materials in my geek box subscription  – a very nice Geek Fuel guide, detailing each item in the box and where I could find it online. I also received an issue of Retro Videogame Magazine, and a free Steam code for the game Kingdom Wars.
There was also this adorable Scribblenauts Unmasked DC Comics toy (I got Green Lantern).
And finally, this kickass Avengers mug, with a Breakfast Club inspired theme. I love how they combined the super hero concept with a pop culture movie. You'll remember the t-shirt did something similar. Very cool idea combining two different concepts!
Geek Fuel Cost
Geek Fuel pricing is pretty reasonable, especially considering that every geek subscription box has a guaranteed value of at least $40.
Geek Fuel boxes vary in pricing, from $23.90 to $19.90 per month depending on your subscription plan. The longer you subscribe for, the bigger the discount.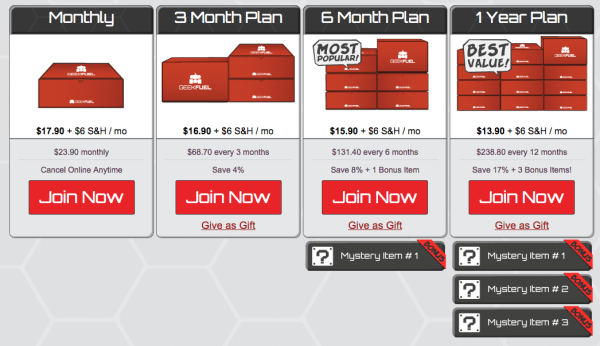 The pay-as-you-go single geek box subscription is $17.90 + $6 shipping = $23.90.
That price drops a dollar with each commitment tier – $16.90 (plus shipping) for the 3 month plan, $15.90 (plus shipping) for the 6 month plan. Then you get a deeper discount for the annual plan, which costs $13.90 (plus shipping) each month.
BONUS GOODIES: The 6 month and 12 month plans also come with bonus items. The 6 month Geek Fuel box plan comes with one mystery bonus item each month, and the 12 month plan comes with 3 bonus items each month. That'll definitely make you want to eye that annual plan.
Note: with the 3 month, 6 month, and 12 month plans, you pay the lump sump upfront – not each month.
Sound good? Go ahead and get your own Geek Fuel box!
Is Geek Fuel Worth It?
I was absolutely overjoyed with my Geek Fuel box! For many of us video game fanatics, we have to make a conscious effort to hunt for fandom fun, making regular visits to Newbury Comics, stocking up at conventions, or scouring online speciality sites.
Geek Fuel makes it easy to collect geek goodies, and serves as a very welcomed and pleasant surprise box each month. It's like every month is a holiday!
It's clear Geek Fuel cares a lot about what they put into their boxes – theme boxes are carefully constructed, and every item they include is something to get excited over. My Avengers Breakfast Club mug is my new favorite for morning coffees.
 My Verdict? Definitely Give Geek Fuel A Try
Geek Fuel is a really incredible, unique offering just for the fans. I'd absolutely recommend trying it. It also makes a great gift!