As a Boston native, I was pretty psyched to see city landmarks scattered across the apocalyptic wasteland traveled through in the first chunk of The Last of Us.
So I decided to provide a brief virtual walking tour of Boston. Welcome to:
A Zombie Walking Tour of Boston
Note: We recommend that those in poor health or with small children sit this one out, as there is a high probability that you will be feasted on by the undead that now roam the ruins of Bean Town. However, if you're going to risk your life,  risk it for history as we explore Boston's rich historical significance and position as a key strategic stronghold which helped form America's independence! 
Let's begin our tour!
Our first item of business is to board Boston's above and below ground city transportation system, referred to as "The T." It was at one time considered the 4th busiest subway system in America, averaging 598,200 rides each day (pre-outbreak).
As we leave Boston's underground tunnels, you'll witness the beautiful Boston skyline on your right. If you look carefully, you can even see the city's capitol building gleaming in the distance with its glittering golden domed roof.  
We will now be approaching the Federal Reserve Bank of Boston on the left. This was formerly considered one of the city's greatest eyesores, thought of by many as a hideous architectural monstrosity. Of course, since the discovery of true monsters, criticism of the Federal Reserve building has drastically diminished.
And now we've finally arrived at the Boston State House, with its iconic golden dome. The dome was initially painted grey, then yellow, before being gilded with gold leaf in 1874. During WWII, the dome was painted black to avoid reflecting light during city blackouts and to protect the building from bombing attacks. It was re-gilded in 1997 with 23k gold.
The Boston State House was built on land once owned by John Hancock (yup, that very one), Massachusetts's first elected governor. 
The pine cone that sits atop the Boston State House's spire symbolizes the importance of the lumber industry during colonial times, and the importance of Maine, which was as that time part of the Commonwealth of Massachusetts.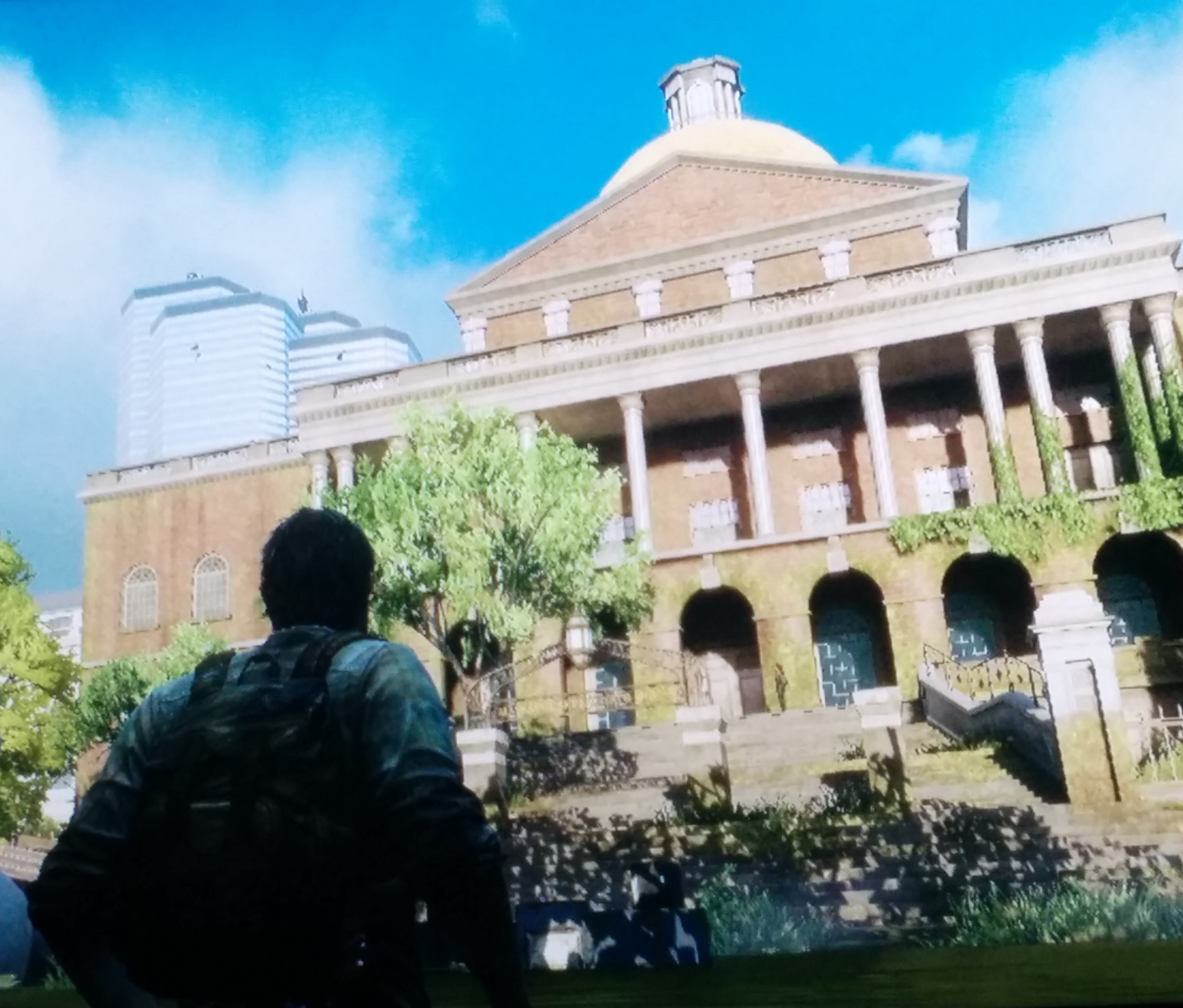 Over here you'll see one of Boston's most beloved icons, the Boston Public Garden Swan Boats! These swan boats would formerly be packed with tourists in the summer months as the young and old alike delighted in trips around the pond. The Boston Swan Boats had formerly been in operation since 1877, started by row boat operator Robert Paget.
Paget was inspired to create the Swan Boats after watching an opera featuring a knight's rescue of a distressed damsel by riding a swan across a lake. Considering the recent popularity of bicycles at that time, Paget decided to combine boat and bike to create the unique Swan Boats, in which the driver would sit inside the swan while pedaling passengers around the pond.
The Swan Boats have been featured in a number of popular children's books, most notably, Make Way For Ducklings.
We've now arrived at Park Street station, the final stop of our tour.
Upon entering Park Street Station, you'll see a map of Boston's T system with directions on how to proceed to your intended destination. We do not recommend using the underground T tunnels for travel as they are heavily populated by the infected. Proceed at your own risk.
We hope you've enjoyed today's walking tour of Boston. If you've been infected during the course of our tour, we kindly ask you to bring yourself to the attention of the nearest military personnel who will be happy to assist you.
Have a great day, and enjoy our fair city – or at least what is left of it!